Home Trust Preferred Visa Card
Wouldn't it be unusual to choose a credit card because of what it doesn't have?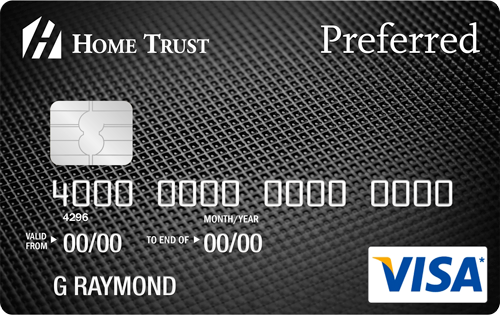 Introducing the Home Trust Preferred Visa* with 1% CashBack
No annual fee
1% CashBack with no limits to your total rewards
No restrictions on where you earn your rewards1
Roadside Assist membership at no extra charge
No foreign currency conversion surcharges2
It doesn't stop there.
The benefits of a Home Trust Preferred Visa include a range of other features that add great value all year round – whether you're shopping, travelling or looking for special offers.
Purchase Security Insurance, so you can shop with peace of mind3
Visa Auto Rental Collision/Loss Damage Insurance4
Emergency card and cash replacement
Guaranteed hotel reservations
The Visa Zero Liability Policy for protection against fraud5
Verified by Visa for enhanced online shopping safety and security
Apply for your Home Trust Preferred Visa with CashBack today, and say goodbye to everything you don't want, like annual fees and cash back limits or restrictions.
Should your application be approved, you will be notified by email within 2 – 4 weeks.
Your new card and separate PIN mailer will be sent to you shortly afterwards via Canada Post. This PIN is unique to you and cannot be changed.
| | |
| --- | --- |
| Documents | Download |
| Cardholder Agreement | |
| Disclosure Statement | |
| Preferred Visa Request for Authorized User | |
Call us at 1-888-281-7793 Monday to Friday, between 8 am and 8 pm, ET
*Visa Int./Home Trust Company, licensed user of mark.
1Cash advances, balance transfers, interest and fees are not eligible for CashBack Rewards.
2Foreign currency transactions are converted at the exchange rate set by Visa International, without additional surcharge.
3Purchase Security insurance is underwritten by Royal Sun & Alliance Company of Canada. Complete terms and conditions, are outlined in the Certificate of Insurance provided with your card.
4The Visa Collision/Loss Damage Insurance program is underwritten by Royal and Sun Alliance Insurance Company of Canada and is provided by a group policy issued to Visa Canada Association. Complete terms and conditions, including exclusions and limitations, are outlined in the Certificate of Insurance provided with your card.
5Certain restrictions, limitations and exclusions apply. The Visa Zero Liability policy protects Visa cardholders who have a Canadian issued Visa card and experience fraud through unauthorized use of their card. Visit visa.ca for more information.